Recycling Hotline
Go Ahead... Ask Us a Question!
Established in 1990, the RCBC Recycling Hotline is a free, province-wide live information service for recycling, pollution prevention, waste avoidance, safe disposal options and regulations.
Our live Hotline Information Officers answer over 80,000 inquiries each year, providing information to B.C. residents from our comprehensive database containing over 120 product and service categories and 4,000 listings of businesses, services, organizations and programs, covering a wide range of topics.
The BC Recycling Hotline Information Officers, ready to answer your questions!
Back Row: Justin LeBlanc, Isaac Yuen & Jessie Christophersen
Middle Row: Jennifer Helman & Juleah Gabriel
Front Row: Eileen Xu 
Our Hotline provides each caller with personalized information because our database cross-references materials, services and communities in every region of the province.
Give the RCBC Recycling Hotline a call, we're here Monday to Friday, 9:00am to 4:00pm:
Wondering what the most asked-about items were in 2018? Check out our infographic!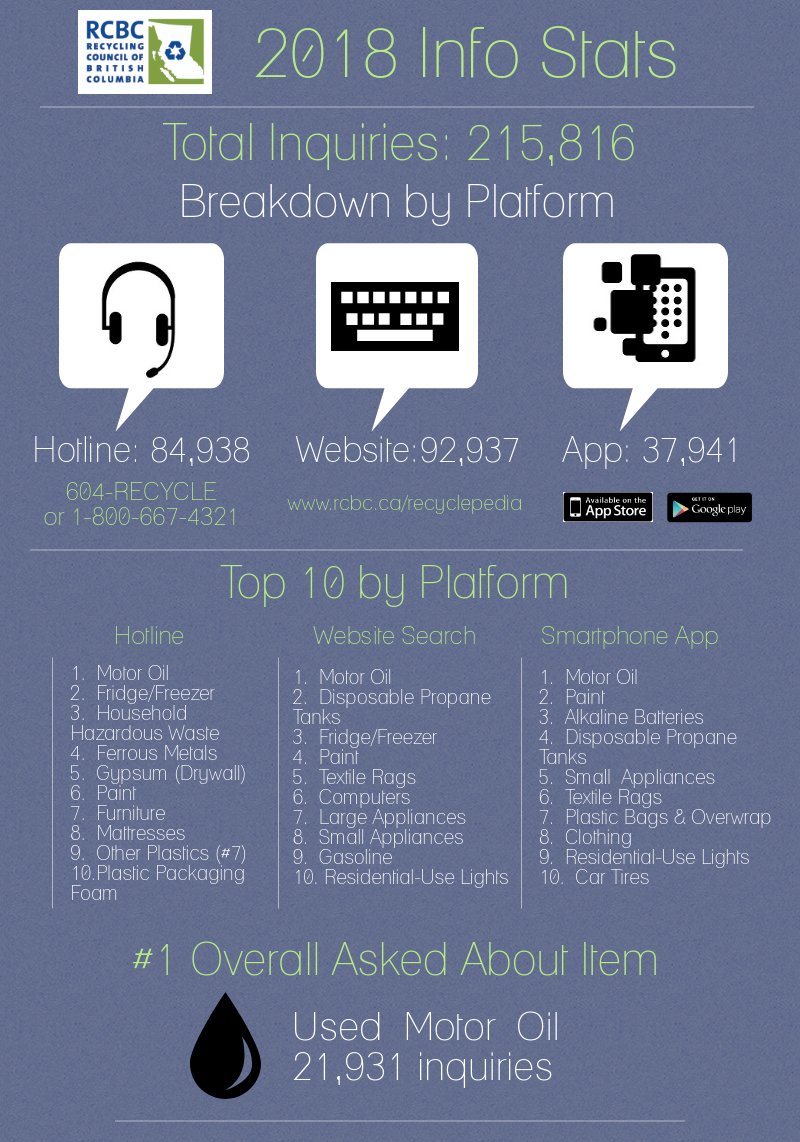 Provide a recycling service in British Columbia?
Get listed on our Recycling Hotline Database!
RCBC Listing Policy on RCBC's Recycling Hotline and Recyclepedia

An RCBC membership will be required for all current companies and organizations listed with RCBC's referral services on the Recycling Hotline and the Recyclepedia. For more information, read our Membership Requirement for Referral Services FAQs
Thank you to our RCBC Recycling Hotline Sponsors!
Other Information Services:
Residential Reuse Program
The Residential Reuses program is a free online listing service that helps individuals, businesses or non-profit organizations find reuse options for household items. With over 40 categories to choose from, including furniture, appliances and garden and landscaping, it's a great place to give away or find what you need for free or cheap.
In the Lower Mainland visit: